There are so many hidden corners of the world, that if we are searching for beauty and authenticity for our next vacation, it is often difficult to choose where to go. Sometimes it is a hit from a tv show, a photo in a magazine, or sometimes a blog like this that tips us off. 
Ireland is a majestic country, filled with natural beauty, a completely unique culture and a fascinating history, but even if you zero in on spending your time here on vacation, where do you visit for an authentic slice of Irish life?
Well, you could do worse than National Geographics 'most beautiful place on earth,' the Dingle Peninsula. 
Dingle, Ireland
The idyllic, tranquil Dingle Peninsula sits on the rugged west coast of Ireland, nestled down in the south. It juts out into the wild Atlantic Ocean and is a little haven of peace and a completely authentic slice of Irish life. Fiercely traditional, Gaeilge (the traditional Irish language) is still spoken widely, though don't worry, everyone here still speaks English too. 
The peninsula is made up of small Irish towns and villages, linked by stunning roads that sweep around the dramatic coastline and soar through the mountainous centre, making it not only a beautiful region to explore, but one that is packed with adventure. 
Dingle Town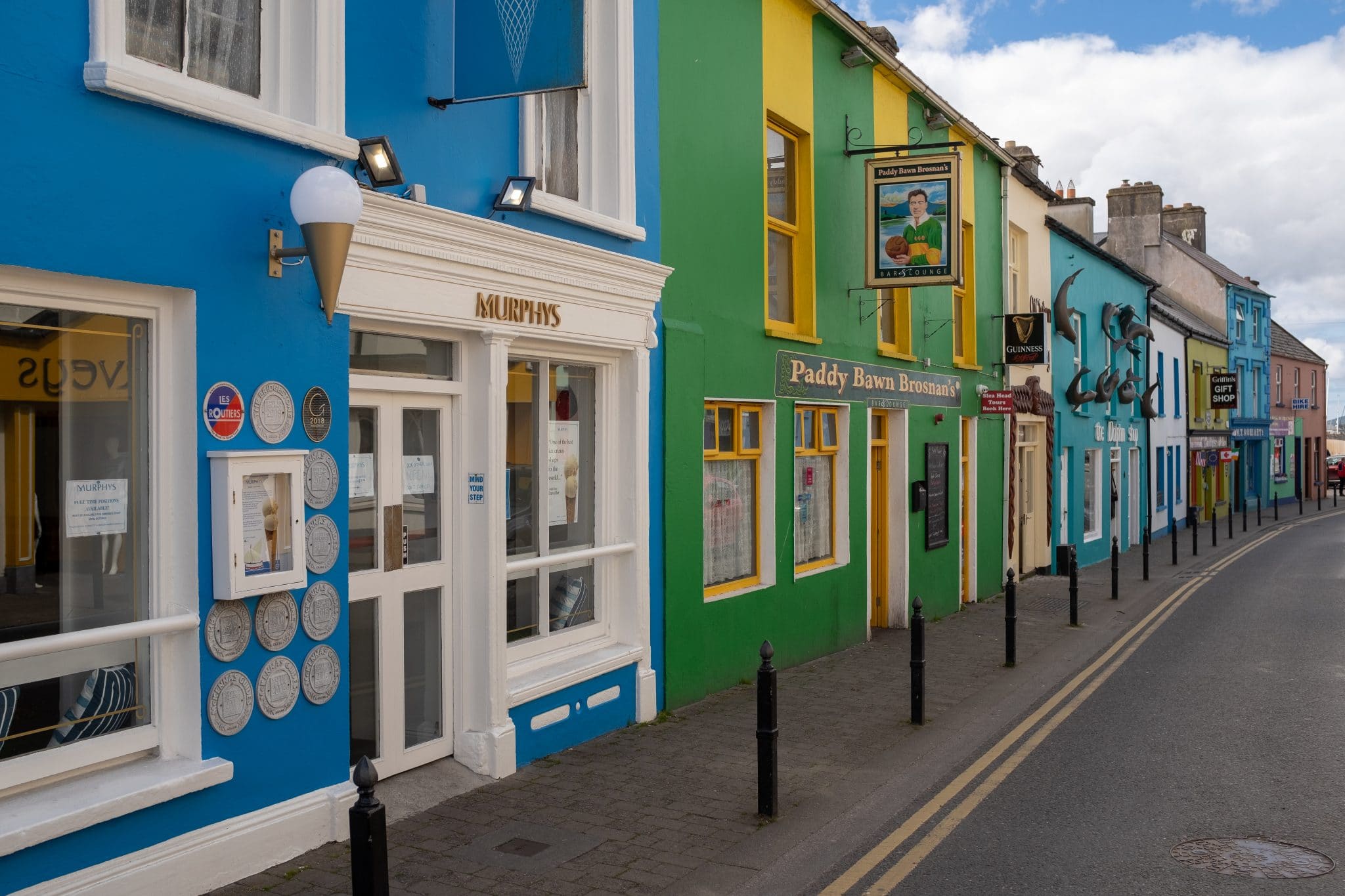 The main town on the peninsula is Dingle Town. This gorgeous little town is a riot of colour, with buildings painted every colour of the rainbow. Despite the population being only around 2,000, many of these colourful buildings are pubs, over 50 in fact, so you will never be stuck for some entertainment or ways to meet the friendly locals while you are in town. 
Dingle Town sits on an enchanting natural harbour, still used as a working fishing harbour, but there is also great trade in taking visitors out on sea adventures. You can take trips to the nearby Blasket Islands, or around Dingle Bay to explore the natural wonder that encloses this beautiful natural harbour. Until recently, a friendly dolphin named Fungie lived out in the harbour, a constant source of pleasure to the locals, but he has recently disappeared, though you may still see his likeness all over town, such was the impact he made. 
History on the Dingle Peninsula
The region is literally packed with over 6000 years worth of history and the best way to discover it all is to hire a local tour guide and head out on a discovery tour.  There are 13 Cashels, or Ring Forts, which date back to around 860AD, and evidence of Viking raids from about 812AD. The history of the region's religion starts in around 600AD with small churches being built across the peninsula, but it is the arrival of Christianity that makes the biggest impact on the archeological wonders you can discover. There are ancient Ogham stones, with carvings that allude to the arrival of Christianity and several sites of ancient religious importance, such as the marvellous Gallarus Oratory.
Then there are the iconic Beehive huts, also known as corbelled stone huts or 'clocháns.' While nobody really knows their true function, examples of these cylindrical stone huts can be found  in many locations across the Dingle Peninsula, dating from the 6th century onwards.
Wild Beauty

The famous Wild Atlantic Way encompasses the Dingle Peninsula on its route up Ireland's west coast and it is many peoples favourite part. The natural beauty on the peninsula is simply outstanding, with spots like the incredible 3-mile rose-gold sands of Inch Beach, whose beauty is matched only by its tranquillity, this is not your typical vacation beach, packed with people! 
Slea Head is where the power of the Atlantic is displayed in full force, with huge waves breaking against towering cliffs. It also has one of the most unique little harbours you will ever see in the dramatic Dunquin Harbour. Away from the coast, no circuit around Dingle is complete without a thrilling ride over the heartstoppingly beautiful Connor Pass. Winding up through the mountains, the twisting road drops away to incredible views, peppered with shimmering lakes and soothing waterfalls. 
The Dingle Peninsula is definitely one of Ireland's hidden gems and makes for an incredible spot for a vacation. The very best way to explore the region is by meeting up with a local guide and allowing them to show you the highlights and the locals-only spots that you would likely miss otherwise. The Award-Winning Dingle Slea Head Tours are the true experts in Dingle, so for any hints or tips, or to jump on board one of their magical tours, don't hesitate to get in touch today.